Client repositions a rental house that always has problems to a cash flowing property. My clients still had their first home as a rental property. They bought the home in the 1990s, refinanced a couple of times. When the market went down they were stuck. The property was costing them money every month but there was nothing they could do because they would owe a lot of capital gains if they sold it, AND there was no equity.
Now with home prices at their 2007 levels they finally could sell through a 1031 exchange get $150,000 to put down on a 3plex that would make them money in a better neighborhood. I met them 10 years ago, yes, 10 years ago, when they were students at my TUSD Adult School class "How to Invest in Real Estate".
I love it when I see people's lives improve when they put the knowledge to use.  Don't miss the next class on October 15th at Griffith Adult School Center (behind Wilson Park). Sign up by going here.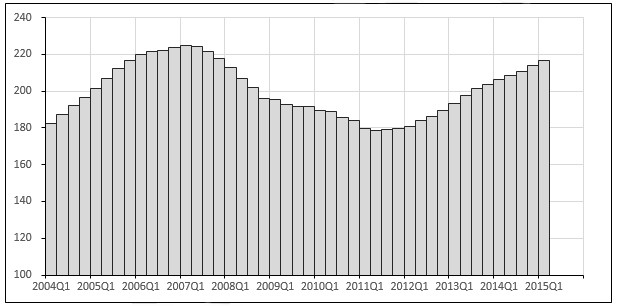 Chart of home prices (national average) 2004-2015